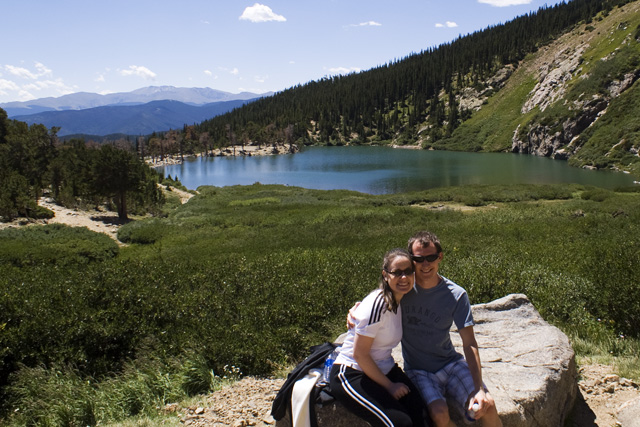 Teri & Brian both attended Texas A&M in 2004 and 2005, but didn't actually meet for another 5 years.  Teri was by that time the Director of Children's Ministry at Saint Paul's Lutheran Church in Decatur, Alabama, and Brian was working as a software engineer at National Instruments in Austin, Texas.  In December of 2009, Teri visited Austin after being called to transfer to Redeemer Lutheran Church (in Austin).  The Sunday of her visit, Brian was playing drums at the service and the Associate Pastor introduced them for the first time.  Though neither of them thought much of it then, it would seem God had other plans.
Though she loved her church in Alabama, Teri felt called back to Austin and accepted the position of Director of Children's Ministry at Redeemer.  Shortly thereafter, she and Brian were both attending a friend's musical and happened to sit with mutual friends.  Later that evening, the group played games at one of their apartments, and Teri and Brian got to see a little more of each other.  But still no obvious sparks flew.
Then, on March 6, Teri casually asked Brian if he was attending a Redeemer Lutheran Church fundraiser that night.  Brian hadn't planned on it, but not wanting to leave her without any other single people her age, met her there.  It was at this event that Teri and Brian began to find themselves interested in each other, and where they danced together for the first time.
Brian had the routine of cooking a large meal every Monday night for dinner and work lunches.  He invited Teri to join him that evening.  She accepted, and thus they had their first date.  Despite Brian wearing a shirt that scared Teri that night ("Admiral Ackbar's a good guy, and the shirt's funny if you know Star Wars" Brian tried in vain to explain), she accepted his next invitation and their weekly "date night" tradition began.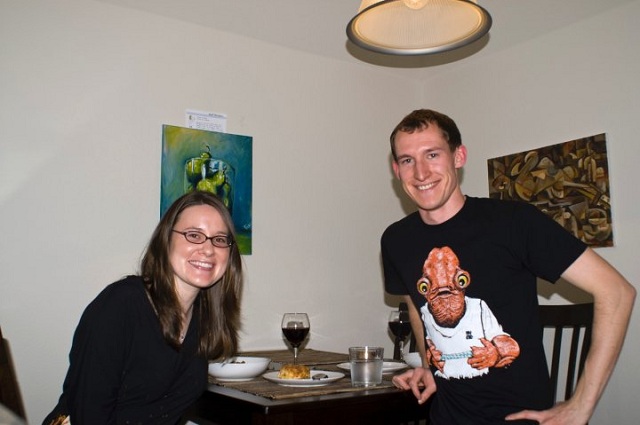 Teri and Brian continued to spend time together on Monday evenings, and then on other occasions as well.  The evening before her 26th birthday, they took a Two Step dance class (Brian needed help) and that evening Brian gave her a rose along with wine and brownies for her birthday get-together the next evening.  That same weekend, Brian asked Teri's dad for permission to date her. Their relationship was now "official!"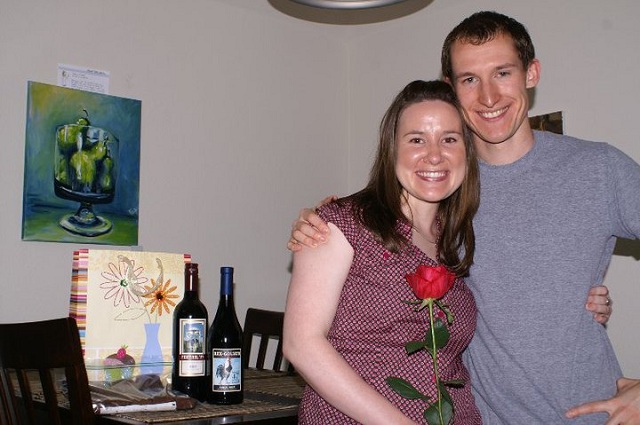 The rest, as they say, is history, one dotted with shared experiences and even a trip to see Rush (Brian's favorite band) in Colorado (Teri's treat!).  (Related anecdote: Brian's ringtone is Tom Sawyer by Rush, and the first time it rang in Teri's presence, she actually recognized and liked it!  Brian found this to be an auspicious sign.)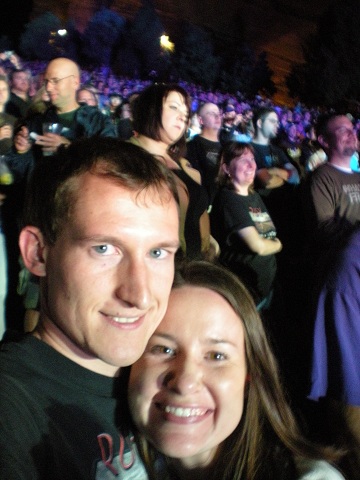 Their first kiss was overlooking the iconic Highway 360 bridge in Austin, which is where they later had their engagement pictures.